'Going Away.tv LIVE - Judgement Day', Live Streamed Performance 2021 @ Arebyte Gallery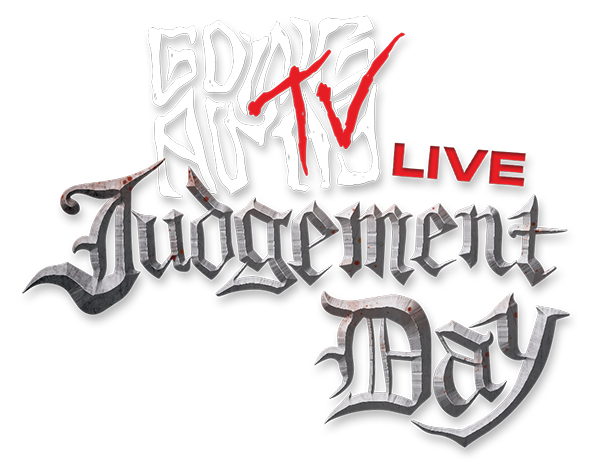 Featuring: Gal Go Grey, Skye Chai, Dank Collective, and Adam Paroussos. Hosted by Meg Jenkins & Marc Blazel

Crew: Ben Hall, Jacob Hance Reynolds & Rebecca Edwards
Going Away.tv is back… and you are not worthy. On 30 July 2021 London's number 1 live-stream returns with Going Away.tv LIVE - Judgement Day.

Transforming arebyte Gallery into an apocalyptic public access TV studio you are invited to enter the bunker and take part in the fun. Hosted by Marc Blazel & his robot sidekicks Meg Jenkins & Adam Paroussos, the live variety show exists as an escape from the armageddon: a celebration of whatever art, music and performance is left after the day of reckoning - a diversion from doomsday and an antidote to the apocalypse.

Whether you join in as part of the studio audience at the gallery, or at home in your bed via the live-stream, Going Away.tv LIVE - Judgement Day promises to be the best end of the world party you've ever been to.

Live-streamed with experimental effects from Rob Hall, Going Away.tv LIVE - Judgement Day will feature performances from Gal Go Grey who are made up of Argentinian saxophonist Ignacio Salvadores aka Galgo and Tom Grey, a London born experimental producer; live music from London-based producer and beatmaker Skye Chai; performance art chaos from London artists Dank Collective, made up of Grant Bingham, Tori Carr, James D. Hopkins, Ian Williamson, and Zen Khalid; as well as jingles from house-band Adam Parrousos, and all-night banter from artists and hosts Meg Jenkins and Marc Blazel.